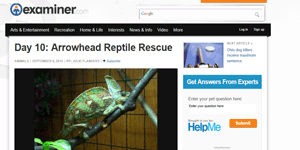 Examiner.com
Arrowhead Reptile Rescue began in 1991 and is operated by a network of foster homes and rehabilitators throughout the Cincinnati area. The rescue's mission is to help unwanted, sick, or injured reptiles, and the group is also open to helping amphibians. While the primary focus of the rescue is to rehabilitate wildlife, they also assist with captive reptiles who are in need of new homes.
See More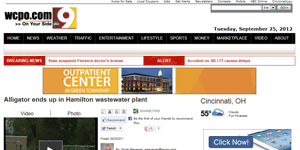 WCPO
"These guys get 12 feet long and live 75 years," says Damien Oxier of Arrowhead Reptile Rescue. It's possible a baby gator's previous owner didn't want to gamble on that, and decided a flush was better than a full house. "Flushed down the toilet is a pretty good guess at this point," Oxier says. The 10 inch reptile was found in a rack that pulls debris from raw waste water in Hamilton's Water Reclamation plant on River Road.
See More
A FEW OF THE MANY OTHER NEWS STORIES FEATURING ARROWHEAD REPTILE RESCUE AND DIRECTOR DAMIEN OXIER OVER THE YEARS


8/30/01 Reptiles Create Pet Peeves
http://enquirer.com/editions/2001/08/30/tem_reptiles_create_pet.html
5/20/02 C&N discovery day
http://pubs.acs.org/cen/education/8020/8020education.html
10/10/04 Details emerge about woman who died from snake bite
http://www.redtailboa.net/forums/reptile-related-news/12564-details-unfold-about-woman-who-died-snakebite.html
12/23/06 Owner of python killed by pet snake
http://www.mombu.com/reptiles/pythons/t-pet-python-kills-owner-python-snake-591810.html
11/28/08 Grove City gator an easy capture
http://www.dispatch.com/content/stories/local/2008/11/27/GATOR.ART_ART_11-27-08_B5_UFC27GE.html
8/17/11 14-foot long, 130 pound python found in family's yard
http://www.wlox.com/story/15283762/14-foot-long-120-pound-python-found-in-trash-can
9/28/11 The Ultimate Guide to Feathers and Scales
http://www.petluxecincinnati.com/2011/09/28/the-ultimate-guide-to-feathers-scales/
10/3/11 Baby gator survives flushing
http://www.daytondailynews.com/news/news/local/baby-alligator-found-in-dumpster/nMwJX/
5/23/12 Two alligators found during Cincinnati pot bust
http://www.newsnet5.com/news/state/two-alligators-found-during-cincinnati-pot-bust
9/10/12 Day Ten: Arrowhead Reptile Rescue
http://www.examiner.com/article/day-10-arrowhead-reptile-rescue
6/12/13 Rescued alligator has new home
http://www.whio.com//news/news/rescued-alligator-has-new-home/nYJhD/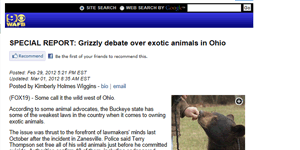 WAFB
(FOX19) - Some call it the wild west of Ohio.
According to some animal advocates, the Buckeye state has some of the weakest laws in the country when it comes to owning exotic animals. The issue was thrust to the forefront of lawmakers' minds last October after the incident in Zanesville. Police said Terry Thompson set free all of his wild animals just before he committed suicide. Authorities confirm 48 of them, including endangered Bengal tigers, were killed.
See More